What is a torn meniscus?
There are 3 bones in the knee, the femur, tibia and patella. The ends of those bones are covered with cartilage (a smooth material that cushions the bone and allows the joint to move easily without pain). The cartilage acts as a shock absorber. Between the bones of the knees are two crescent-shaped discs of connective tissue, called menisci, which also act as shock absorbers to cushion the lower part of the leg from the weight of the rest of the body.
What causes a torn meniscus?
Meniscus tears can occur during a rotating movement while bearing weight, such as when twisting the upper leg while the foot stays in one place during sports and other activities. Tears can be minor, with the meniscus staying connected to the knee, or major, with the meniscus barely attached to the knee by a cartilage thread.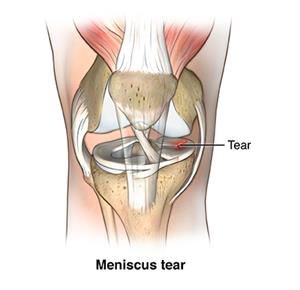 What are the symptoms of a torn meniscus?
The following are the most common symptoms of a torn meniscus. However, each individual may experience symptoms differently. Symptoms may include:
Pain, especially when holding the knee straight
Swelling and stiffness
Knee may click or lock
Knee may feel weak
The symptoms of a torn meniscus may resemble other medical conditions or problems. Always consult your doctor for a diagnosis.
How is a torn meniscus diagnosed?
In addition to a complete medical history and physical exam, diagnostic procedures for a torn meniscus may include the following:
X-ray. A diagnostic test which uses invisible electromagnetic energy beams to produce images of internal tissues, bones, and organs onto film.
Magnetic resonance imaging (MRI). A diagnostic procedure that uses a combination of large magnets, radiofrequencies, and a computer to produce detailed images of organs and structures within the body; can often determine damage or disease in a surrounding ligament or muscle.
Arthroscopy. A minimally-invasive diagnostic and treatment procedure used for conditions of a joint. This procedure uses a small, lighted, optic tube (arthroscope) which is inserted into the joint through a small incision in the joint. Images of the inside of the joint are projected onto a screen. They are used to evaluate any degenerative and/or arthritic changes in the joint. The procedure also may detect bone diseases and tumors as well as determine the cause of bone pain and inflammation.
How is a torn meniscus treated?
Specific treatment for a torn meniscus will be determined by your doctor based on:
Your age, overall health, and medical history
Extent of the injury
Your tolerance for specific medications, procedures, and therapies
Expectation for the course of the injury
Your opinion or preference
Treatment may include:
Icing
Medication to relieve pain and reduce inflammation, such as ibuprofen
Muscle-strengthening exercises
Arthroscopic surgery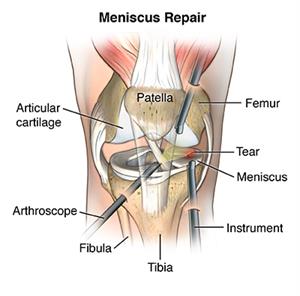 What are the complications of a torn meniscus?
An untreated torn meniscus can result in instability of the knee, persistent pain, and increased your risk of osteoarthritis.
When should I call my health care provider?
Call your health care provider if your knee:
Locks or catches or makes a clicking, popping, or grinding sound
Is painful and swollen
Feels week or buckles
Key points
Torn meniscus is caused by a twisting movement of the knee while bearing weight.
A torn meniscus causes pain, locking or clicking, and weakness of the knee.
Exercises, medication and arthroscopy may be used to treat a torn meniscus.
Next steps
Tips to help you get the most from a visit to your health care provider:
Before your visit, write down questions you want answered.
Bring someone with you to help you ask questions and remember what your provider tells you.
At the visit, write down the names of new medicines, treatments, or tests, and any new instructions your provider gives you.
If you have a follow-up appointment, write down the date, time, and purpose for that visit.
Know how you can contact your provider if you have questions.
Would You Like to Schedule an Appointment?
Office Hours

Monday-Friday: 8AM-5PM
Would You Like to Schedule an Appointment?
Contact one of our friendly staff members today.
Kenosha Office
Comprehensive Orthopaedics, S.C. 7401 104th Ave. #110 Kenosha, WI 53142
Office Hours
Monday-Friday: 8AM-5PM
CompOrtho NOW Urgent Care Hours
Monday-Friday: 8AM-5PM
Saturday: 10AM-2PM
Sunday: Closed
Salem Office
Comprehensive Orthopaedics, S.C. 7137 236th Ave. Suite #110 Salem, WI 53168
Office Hours
Monday-Friday: 8AM-5PM